service & construction plumber
A Reliable & Trusted plumbing services in Toronto
At CanJam Plumbing services in Toronto, we understand that plumbing emergencies and issues can happen at any time, and when they do, you need a creditable plumber that you can trust. This can include services such as repairs, replacements, maintenance, and installation. For any plumbing problem, CanJam Plumbing has the plumbing solution for you, we treat your plumbing issues as our own. CanJam Plumbing's integrity and standers are why you will choose us and keep on choosing us. Get your plumbing done right the first time by an expert CanJam plumber. Give us a call today!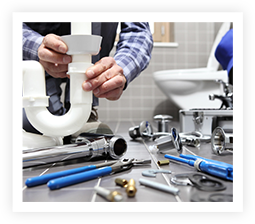 Who We Are
A reliable plumbing services in Toronto that you can trust
CanJam Plumbing is a family-owned company with over 15 experienced, insured, and trusted licensed technicians. We are a plumbing company run by a master plumber with a red seal license, who has been in the industry for over 13 years. CanJam Plumbing's integrity and ethics are what this company was built on as hard-working, timely, professional, honest, trustworthy, clean work, and cost-effective. We take our jobs very seriously and only provided the best equipment, tools, and materials for our customers. CanJam Plumbing will provide a solution or solve your issue the same day because we strive for customer satisfaction.
Latest Services
Our professional plumbing services in Toronto
Disclaimer: $100 service charge applies if our technician is required to drive to your residence for a quote. This fee will be charged if no repair is done. 
Affiliate yourself with quality GTA leading
Why Choose Us
The perfect solution for Plumber Services
Guaranteed Works
Every person's life is made easier by the presence of plumbing equipment.
Fast Services
In addition to fixing plumbing fixtures and heating devices, we also provide plumbing installation services.
24/7 Emergency Support
In all occupations, it is much better to undertake preemptive actions in the case of troubleshooting.
How We Work
Our works process for you
Testimonials
Our clients reviews.
CanJam Plumbing is my go to place for plumbing repairs. I had a speedy service no delays and got the job done correctly. I'm so looking forward on calling you's again if any plumbing is needed.
I used Canjam for a few bathroom repairs I needed and after some upsets with other companies I was blown away by the service. They listened to my concerns and went above and beyond! They were never pushy with any services and explained to me what was going on and what needed to be done. They did the work fast and efficient and left the area worked in clean. I would recommend Canjam 100% for all your plumbing and bathroom repairs! I am so happy with the results.
Very professional, efficient and friendly. Had issues with my sink and was seen in a timely manner, and had everything explained to me.
Let us help your business to move
forward.
Subscribe and Get $25 OFF your next service with us.